We believe that children in preschool and grade-school learn best by stories. By the time children go to middle school, they should have a solid foundation of Bible understanding.
Roughly 2 years of chronological Bible story lessons

1 year through the Old Testament and 1 year through the New Testament

Lessons focus on stories kids will remember, not topics

Children will get each lesson 3 times by the end of 5th grade

Your teachers might learn something too!

Students learn a new Bible memory verse every 4 weeks

Each lesson includes supplies and preparation steps, as well as coloring sheets by our awesome artist that will get your kids excited each week

Teachers use Children's Storybook Bibles to make sure lessons are comprehended
Teach Us the Bible is the creation of Jonathan and Michelle Minter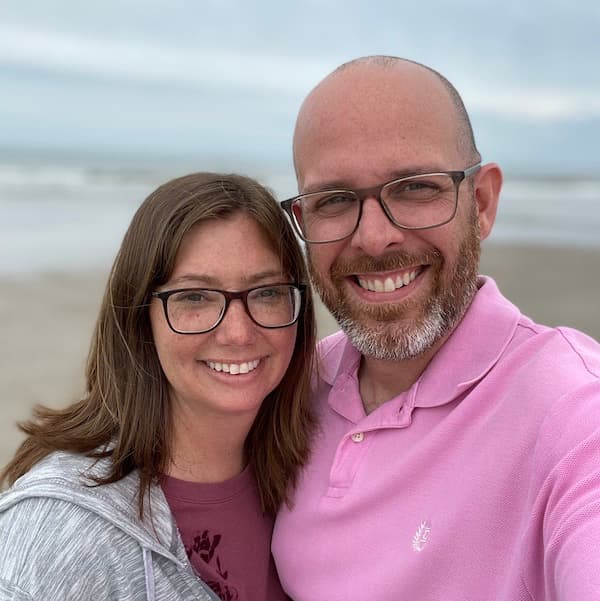 Michelle received a Bachelor's degree in elementary education from Averett University in Danville, VA. After teaching for a year and a half, she retired to become a stay-at-home mom and homeschool teacher. She now teaches preschool.
She has been teaching Sunday school for over 15 years and has a passion for helping children get excited about learning the Bible. She realized early on in her teaching that the Bible doesn't need watered down, amp'd up, or glossed over. Over the years, she has continued to refine her teaching style of giving children a comprehensive understanding of the Bible story, and then providing memorable and engaging activities to help them remember it.
Michelle is the lead curriculum designer. She laid out the chronological sequence of the lessons, created the lesson instructions, and the reinforcement activities (with some help from the kids as well!).
Jonathan spent 14 years working in the IT industry before becoming the Pastor of Administration and Children at Eastgate Church in North Carolina. He has a Bachelor's degree in Psychology and a Masters degree in Information Technology.
He has been doing web development for the last 23 years, but also has a passion for teaching children the Bible.
Jonathan is the programmer, content editor and business lead on the team.
Our art is custom made by Amanda Manuel
Amanda has a degree in interior design and is an all-around creative genious
Amanda shares our passion for quality children's curriculum and creates art with a singular focus of helping children remember the Bible story for that week
This is not just art to be admired - it is art with a purpose.