Resurrection Biscuits
Scripture "Don't be alarmed," he said. "You are looking for Jesus the Nazarene, who was crucified. He has risen! He is not here. See the place where they laid him. Mark 16:6
Supplies small paper plates, 1 pkg. refrigerated biscuits ,1 bag large marshmallows, 1/2 cup melted butter, 3/4 cup sugar, 2 tablespoons cinnamon
Give each student a small paper plate and a biscuit.
Flatten out biscuits on plate.
Melt butter.
Mix cinnamon and sugar together.
Have each student roll a marshmallow in the butter and cinnamon sugar mixture.
Place coated marshmallow onto center of biscuit.
Fold biscuit around marshmallow and seal edges.
Place biscuits on baking sheet.
Bake according to package instructions.
When done, biscuits will be empty. (The marshmallow melted)
As they discover the empty tomb, say "He is not here for He is risen!"
Easter Egg Bible Story
Supplies various - see below
Place a different item that represents Jesus' last week in a plastic Easter Egg.
Ask the children if they can think of what that item represents in the Easter story
Sunday - palm leaf (actual leaf or one made out of construction paper) (the entry into Jerusalem); small plastic donkey (Jesus rode a colt on the way to Jerusalem)
Monday - small dove or bird (found in wedding section of crafts store) (symbolizing the selling of sacrifices in the temple, the reason Jesus overturned the tables);
Tuesday - small scroll (make using toothpicks and paper) (Jesus taught in temple)
Wednesday - coin (Judas agreed to betray Jesus)
Thursday - small goblet (lego or Polly Pocket) (last supper); bread (last supper); small silk flower (Jesus prayed in the garden)
Friday - a cross made out of toothpicks (Jesus was crucified on a cross)
Saturday - rock (symbolizing the tomb); small plastic sword (lego) (a guard was placed at tomb)
Sunday - leave empty
Making a Clay Tomb
Scripture and they asked each other, "Who will roll the stone away from the entrance of the tomb?" 4 But when they looked up, they saw that the stone, which was very large, had been rolled away. Mark 16:3-4
Supplies air dry clay, small strips of linen, large stones
Tombs were not like we think today. People were not buried in the ground, but were placed in tombs with large stones rolled in front of the opening.
See the picture below (source) for a picture of a tomb that may be similar to the one Jesus was placed in.
Make a tomb out of clay that resembles the picture.
Give each student a large stone to go over the entrance to the tomb or have them make one out of clay.
Place a small linen strip in the tomb, to represent the strips of cloth left in the tomb when Jesus had risen.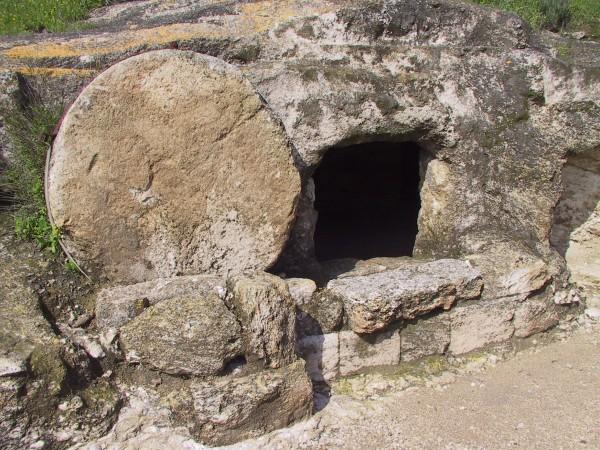 Peter and John Running to the Tomb
Scripture So Peter and the other disciple [John] started for the tomb. Both were running, but the other disciple outran Peter and reached the tomb first. He bent over and looked in at the strips of linen lying there but did not go in. Then Simon Peter came along behind him and went straight into the tomb. He saw the strips of linen lying there. John 20:3-6
Play a racing or running game of your choosing (a relay, for example)
Bring out the part in the story where Peter and John run to Jesus' tomb
Burial spices
Heads up! Be sensitive with this topic, especially if any of your children have lost a loved one recently
Scripture Nicodemus brought a mixture of myrrh and aloes, about seventy-five pounds. Taking Jesus' body, the two of them wrapped it, with the spices, in strips of linen. This was in accordance with Jewish burial customs. John 19:39b-40
Supplies myrrh, cloth
Place a dab of myrrh on a cloth and allow students to smell.
Remind students (especially older ones) this was one of the gifts given to Jesus by the wise men when he was born. It was a strange gift for a baby, but was a foreshadowing of what was to come.
Although difficult for small children to understand, it is important that the children know that Jesus was in fact dead, and then he rose again.
Use wisdom, but you can talk about how even today, we prepare bodies for burial, and they did the same thing for Jesus.
Rock Painting
Scripture Early on the first day of the week, while it was still dark, Mary Magdalene went to the tomb and saw that the stone had been removed from the entrance. So she came running to Simon Peter and the other disciple, the one Jesus loved, and said, "They have taken the Lord out of the tomb, and we don't know where they have put him!" John 20:1-2
Supplies rocks, paint brushes, paint
Paint rocks as a reminder that the stone was rolled away.
Hunting Easter Eggs
Scripture I can do everything by the power of Christ. He gives me strength. Philippians 4:13
Supplies Easter eggs with words from Bible verse
Hunt for Easter Eggs.
Each Egg will contain a word from the Bible verse.
After all the eggs are found, have students place the verse in order.
Older students can be split into teams and complete as a relay or contest.
Each team will hunt for a different color of eggs.